MPlus Knowledge Base
Why your MPlus gets powered off in some hot conditions?
Your MPlus does have the built-in overheating protections to prevent the unit from overheating in some high heat conditions, which may turn off the power automatically. It is designed for your safety.
To resume use of your MPlus as quickly as possible, move it to a cooler environment (away from direct sunlight), and allow it to cool down.
So, avoid leaving your device in direct sunlight for an extended period of time because it may to change performance and behavior and shorten the battery life.
Why your MPlus was created with 2 different ways of powering on/off?
1) To minimize the number of control buttons needed for the operations.
2) The design of twisting both knobs for instant switching ON/Off of power is mainly to encourage riders to turn on or off the device "before riding" or "after stopping" their motorbikes for safety reason.
3) The design of twisting the single left knob for at least 4 seconds is to offer riders an easier way to power on/off MPlus when they are holding many stuffs, like helmet and packbags, with one hand. It's not recommended to power on/off by this way while riding for safety reason.
Learn more about the ways of powering on/off:
https://www.youtube.com/watch?v=zBsIoshrIUQ&t=33s
(Guide starts from 0:33 to 1:15)
How many units of MPlus can be connected for Bluetooth intercom at the same time?
The BT intercom function of MPlus is designed to be serving two riders mainly, which is the most common usage scenario.
In case of more than two persons needing to be connected for communication, we do humbly recommend MPlus users to consider other popular 3rd party group-talk Apps installed in their smartphone ( such as Rockie Talkie – Zello) with the use of the apps supported PTT On/Off button.
Many MPlus users shared their good feedbacks of using that kind of apps for their group ride.
Disclaimer:
Motikom is not affiliated to any 3rd party communication apps and Motikom do not guarantee the compatibility of MPlus with any 3rd party apps due to unique software design of each apps .
About IP67 Dust & Waterproof standard of MPlus
This standard applies to body (the neckband) of MPlus excluding earpiece.
I can not hear each other speak when using detachable boom mic / wired mic which comes with my MPlus
It seems that those magnetic Pogo Pins (referring to the male connector of the microphone and the female connector of MPlus device) were not properly connected.
Please note that both magnetic Pogo Pins (connectors) have an unique directional shape, which allows the connectors to be snapped together only in one direction.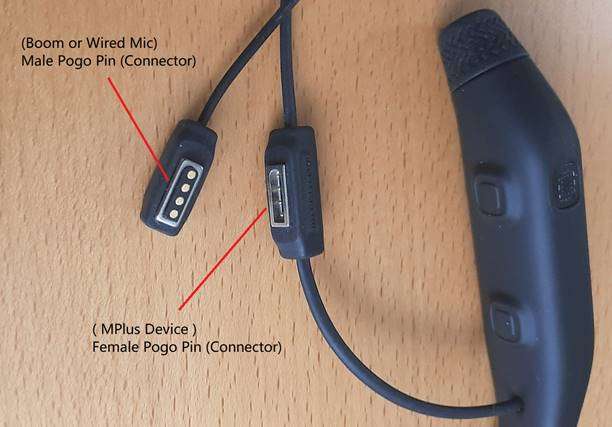 One easy way to know if the connectors are connected in the right direction:
While you are having the ear plugs in your ears and wearing your helmet, with your fingers, always try to feel and keep that male connector of mic downward so the mic wire is above. See the picture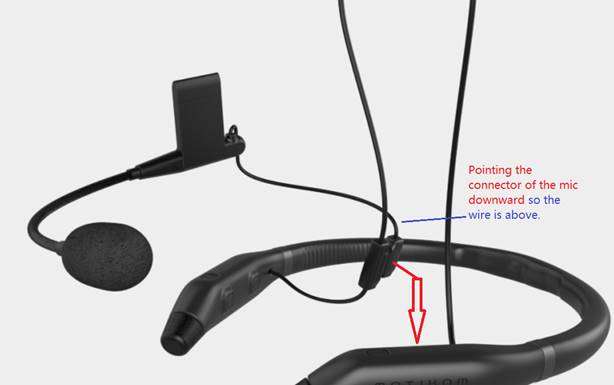 Here is the YouTube link, where you can watch the tutorial about it from our YouTube channel:
Click here

Can I pair the MPlus  directly to the built-in Bluetooth Multimedia / Navigation Systems in my motorcycle?
Just like a normal Bluetooth Earphone, MPlus is designed specifically to work with most common smartpones, such as iphones, and most Bluetooth Devices, such as GPS, that support both HFP (Hand Free Profile) and A2DP (Advanced Audio Distribution Profile).
So, If you intend to use MPlus with any built-in Bluetooth Devices, do make sure the devices support the same Bluetooth Profiles (HFP and A2DP). However, due to the fact that the firmware design in each Bluetooth Devices may been tailed-made to their specific need and function, they may not be compatible to some normal Bluetooth Headsets in the market, please do check with the factory of the devices about the Bluetooth compatibility before you can make the purchase.
Shipping & Delivery
Which area do you support shipping to?
We can ship orders to below countries:
Europe: Austria, Belgium, Denmark, France, Germany, Ireland, Italy, Luxembourg, Monaco, Netherlands, Norway, Spain, Sweden, Switzerland, United Kingdom (Great Britain)
Asia-Pacific: Australia, Hong Kong, New Zealand, Singapore, South Korea, Japan
North America: Canada, United States
South America: Mexico
Do I need an account when placing orders?
Yes, you need to register an account to place an order with us. It is easier for you to login for tracking information about your purchased orders, wishlist and personal information.
How do I know my order has been placed successfully?
After completing the purchase, you will receive an automated email. Please select "Login / Signup", then enter your Email and Password, and you can navigate (Hello, User Name) to the "Orders History" page to review your order . If you cannot view your order details, it means the order may not be successful. Please contact our Customer Service for help before placing new order.
How long does it take for the package to arrive after I placed my order?
We will dispatch your order from our warehouse within 2-5 working days. However, in case we need spending extra time to contact you or obtain further information of verify an order. After your item is shipped, please allow us 3 – 12 working days for delivery. It usually takes extra at least 7 working days to deliver to remote areas.
Will I receive a tracking number for my order?
Yes, a tracking number will be provided via email as soon as the order is shipped.
Compatibility
Is MPlus compatible with my intercom device?
In general, Motikom MPlus can be connected to any non-Motikom Bluetooth headset for intercom connection if they support the Bluetooth Hands-Free Profile (HFP).
In order to ensure your third party headset is compatible with MPlus for intercom call, you are strongly recommended to check with the manufacture on whether the model you want to pair supports HFP and also is compatible with MPlus.
While you may need to check the third party's device manual for the universal pairing & compatibility, You may refer to the guideline of Bluetooth universal pairing on MPlus user manual.
Please download the user manual here:
https://www.motikom.com/wp-content/uploads/2022/01/Motikom-MPlus-Pack-User-Manual_eng.pdf
Note: the operation distance via HFP may vary depending on the performance of the connected Bluetooth headset and is typically shorter than normal connection distance. Also, via HFP connection, only one designated headset can operate the intercom control, such as Intercom On/Off.
Payment Method
What types of payment method does Motikom accept?
Motikom Online Store accepts PayPal or Credit Card (American Express, MasterCard, Visa and Union Pay). When selecting PayPal option at checkout, you will be directed to the PayPal site to complete your purchase before returning to Motikom Online Store.
Return and Refund
How do I return product and get refund?
If you experience any difficulties in using our products or the device is not working, please contact our customer service for support.

Email us: cs@motikom.com
Warranty
How does the warranty work?
All Motikom products come with a limited 14-day warranty based on your product when shopping on Motikom Online Store. The warranty period starts from the signed date of your shipment. For more information, please refer to our Warranty Policy.